In the movie City Slickers, three aspiring cowboys are sitting around reflecting on a simpler time of their youth and talking baseball. As soon as the name Willie Mays is mentioned, all three respond in unison with the name of Vic Wertz. That scene personifies what it means to be a baseball fan—they have a way of categorizing just about every individual aspect of the game, including linking players' achievements together.
One of the most popular ways to connect players is to pair a team's second baseman and shortstop, who are known as the keystone combination. Some of the most memorable keystone combinations in history are Tinker and Evers, Concepcion and Morgan, Robinson and Reese, Trammel and Whitaker, and the Indians' own Alomar and Vizquel.
This season, the Tribe's keystone combination of Asdrubal Cabrera and Jason Kipnis has been a big reason why the team is in the hunt AL Central. As of this weekend, Cabrera has a wOBA of .374 while Kipnis checks in with a .345 wOBA. Seeing these impressive numbers got me to wondering: Where would Kipnis and Cabrera rank among other keystone combinations in MLB?
I am interested only in how productive Cabrera and Kipnis are from an offensive perspective; therefore, I turned to weighted runs created plus (wRC+), a statistic that measures runs created by a player compared to the league average rate, to evaluate each of the league's keystone combinations. A league average wRC+ equals 100, and every point above that is a percent above average, so a wRC+ of 120 means a player created 20 percent more runs than a league-average player and a wRC+ of 85 means a player created 15 percent fewer runs.
As seen in the table below, the Indians' and Yankees' middle infielders lead the majors with a combined wRC+ of 258 (note that the dual wRC+ value does not represent 58 percent better than league average), ahead of the Houston Astros (255), the Texas Rangers (220), and the Miami Marlins (214). Also included in the table below are some more traditional statistics (HR, R, RBI, and SB) and the players' combined fWAR and 2012 salary.

The individual numbers for Cabrera and Kipnis, Robinson Cano and Derek Jeter of the Yankees, Jose Altuve and Jed Lowrie of the Houston Astros, Ian Kinsler and Elvis Andrus of the Texas Rangers, and Omar Infante and Jose Reyes of the Miami Marlins are provided in the table below.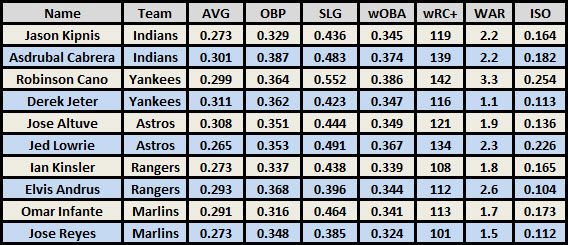 Kipnis and Cabrera are clearly in elite company right now. But can they both remain there?
One of the advantages that wRC+ provides is that it is league-adjusted, making it possible to judge players from one decade to another. With this in my mind I began to wonder how Cabrera and Kipnis would compare to Roberto Alomar and Omar Vizquel. But why stop there? How about Carlos Baerga and Vizquel? Or Tony Bernazard and Julio Franco?
I decided to take a look at all of Cleveland's primary double-play combinations since 1980. As I began to compile the list I was amused at some of the names that I came across: Mike Fischlin, Tommy Hinzo, Manny Trillo, Jay Bell, Jerry Browne, Mark Lewis, and David Bell. Below are all the keystone combos that topped a combined wRC+ of 200.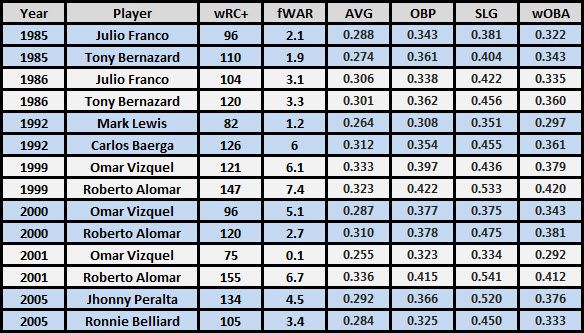 The highest combined wRC+ was the 1999 duo of Roberto Alomar and Omar Vizquel, at 268. They also had the third highest total (230 in 2001) and the fifth-highest (216 in 2000). No. 2 on the list are Jhonny Peralta and Ronnie Belliard at 239. Tony Bernazard and Julio Franco combined came in fourth with a 224 combined wRC+ in 1986 and seventh with 206 in 1985. Carlos Baerga and Mark Lewis finished sixth with a combined wRC+ of 208 in 1992.
Kipnis and Cabrera are thus on pace to be the Tribe's second-best offensive keystone duo of the last 33 years—and that's in Kipnis' first full MLB season. They may not channel Robbie and Omar in the field, but their strong bats at premium positions will give the Indians a strong nucleus to build around for years to come.
Tags: Asdrubal Cabrera Carlos Baerga Cleveland Indians Derek Jeter Elvis Andrus Houston Astros Ian Kinsler Jason Kipnis Jed Lowrie Jhonny Peralta Jose Altuve Jose Reyes Julio Franco Mark Lewis Miami Marlins New York Yankees Omar Infante Omar Vizquel Roberto Alomar Robinson Cano Ronnie Belliard Texas Rangers Tony Bernazard